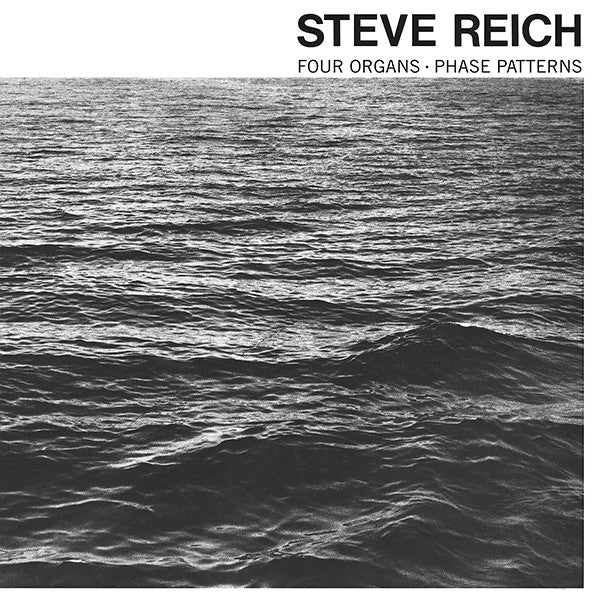 Steve Reich - Four Organs / Phase Patterns CD
$15.00
Also available on vinyl.
Steve Reich remains one of the most important figures in 20th century music. Though he studied at the prestigious arts institutions Julliard and Mills College, by the mid-1960s Reich set about dismantling the very orthodoxy that he had been trained in. Forming a new musical language based on repetitive processes, Reich became established as part of the so-called "Big Four" of New York minimalists (along with La Monte Young, Terry Riley and Philip Glass). Reich's influence can easily be seen today in both the classical world and contemporary pop music.
"Four Organs" is the ultimate minimalist composition. Performed by Reich, Glass, Art Murphy and Steve Chambers, four identical Farfisa organs strike a single chord and gradually lengthen each note to produce polyrhythms between the players. Anchored by Jon Gibson's stoically-steady pulse on maracas, the piece deconstructs its opening burst to a sustained mass of sound – stretching the tones to create (in Reich's words) "slow-motion music."
Inspired by Reich's early training on drums, "Phase Patterns" treats the keyboards like tuned percussion instruments: a basic rhythm pattern is played in unison and almost imperceptibly increases tempo to move out-of-sync. Each progressive cycle emphasizes unique figures that are not generated by an individual alone, but rather emerge from the communal expression of the group.
Originally released on Shandar in 1971, Four Organs / Phase Patterns is one of the most highly regarded avant-garde recordings of the past 50 years. This CD release features cover photography by artist Michael Snow and is recommended for fans of Neu!, Glenn Branca and Tim Hecker.
Track Listing:
Four Organs
Phase Patterns