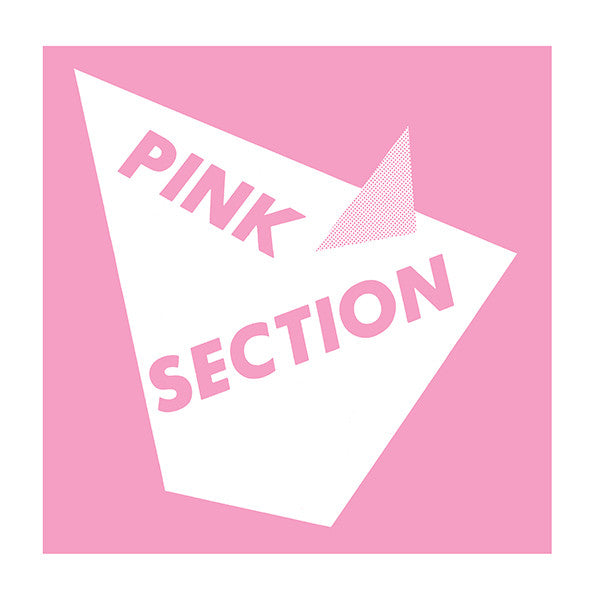 Pink Section - s/t LP
$20.00
Download card included.
Named after San Francisco Chronicle's pink-hued arts and entertainment guide, Pink Section coalesced at SF Art Institute and performed their first show at the legendary Deaf Club on Valentine's Day, 1979. These self-taught musicians existed on the fringe (even in the local underground scene), producing an unusual brand of off-kilter post-punk against a backdrop of Dadaist aesthetics. 
The group itself was strangely symmetrical: singer Judy Gittelsohn and drummer Carol Detweiler (both members of Inflatable Boy Clams), singer / guitarist Matt Heckert (Survival Research Laboratories), and bassist Stephen Wymore.
While the hallucinatory layers of male / female vocals on "Shopping" conjure images of deranged domesticity and '50s Americana gone haywire, the fractured riffs of "Midsummer New York" deconstruct Yoko Ono's original even further, stripping bare Pink Section's fondness for angular rhythms and out-of-control oscillations.
This first-time retrospective LP collects the band's rare 1979 single, the self-titled EP, unreleased demos, and live material. Recommended for fans of Suburban Lawns, Units, and Devo.
Track Listing:
Tour Of China
Shopping
Wine World
Midsummer New York
Flat Dog
Part Time
Francine's List
Safety Instruction
Jane Blank
Cars Don't Wait For Love
Lonely Fashionette
Been in the Basement 30 Years