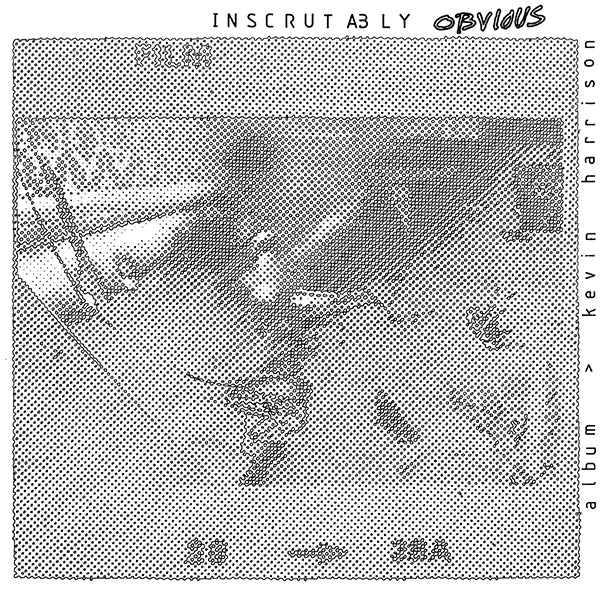 Kevin Harrison - Inscrutably Obvious LP
$17.00
Hailing from Nuneaton, England, Kevin Harrison recorded both solo and collaboratively throughout the late '70s and early '80s. While his early recordings would come out in hyper-limited editions or go unreleased for decades, Inscrutably Obvious remains his sole LP – a lost gem of Britain's '80s cassette culture and DIY bedroom aesthetics.
Originally released in 1981, Inscrutably Obvious covers a lot of ground on its seventeen inscrutable tracks – from analog synth workouts to mutated disco and shimmering guitar improvisations. The album maintains a late-night vibe, filtered through a post-punk lens.
Harrison clearly wears his influences on his sleeve – major debts are paid to Brian Eno, Robert Fripp and Manuel Gottsching – yet finds his own unique voice, combining quirky instrumentals and surrealist sensibilities.
This first-time reissue is recommended for fans of Chris & Cosey, Cupol and The Normal. Inscrutably Obvious sounds as fresh today as it must have nearly 40 years ago.
Track Listing:
The Cantonese Detective Agency
Some Aspects Of Music
All Night Long
Wooden Heartthrob Of Peking
Chase The Dragon
The Word
Cyclotron
Water
Take It Away
Flicker
Stretch/1
Stretch/2
Horizontal/Diagonal
M0903A
Melodica Melodica
People In Space
Free-Float