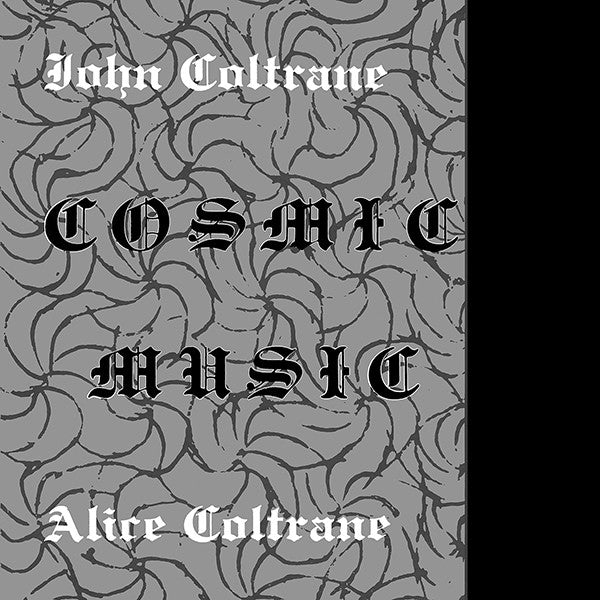 John Coltrane / Alice Coltrane - Cosmic Music LP
$20.00
John Coltrane transformed the inner architecture of jazz throughout the mid-1950s and 1960s and long after his premature death at age 40 in 1967. No other American musician could be said to be at the spiritual center of the '60s musical universe as Trane influenced Albert Ayler, La Monte Young, Jimi Hendrix and everybody in between.
Cosmic Music, originally self-released by Alice Coltrane in 1968 and later issued by Impulse!, features two tracks ("Manifestation" and "Rev. King") by John Coltrane's legendary final quintet that were recorded in San Francisco on February 2nd, 1966 and two more ("Lord Help Me To Be" and "The Sun") from Alice Coltrane's very first session as a bandleader, recorded six months after her husband's passing.
"Manifestation" opens with the group already in mid-flight: Trane's fierce tenor leads the way with Pharoah Sanders' blistering sax and Alice's powerful chords hearing his call. On "Rev. King," Trane introduces a lyrical theme and then the composition erupts into fiery incantations, while Jimmy Garrison's bass throbs alongside the propulsive, gravity-defying drumming of Rashied Ali.
Foreshadowing her majestic debut, A Monastic Trio, "Lord Help Me To Be" brings Alice's celestial piano playing and inspired improvisations to the foreground with Sanders, Garrison and drummer Ben Riley rumbling in tow. "The Sun," a meditative ballad with subtle urgency, perfectly closes the album's contemplative circle.
As John Coltrane recites on the final track, "May there be peace and love and perfection throughout all creation."
This first-time vinyl reissue has been carefully remastered from the original master tapes.
Track Listing:
Manifestation
Lord Help Me To Be
Rev. King
The Sun