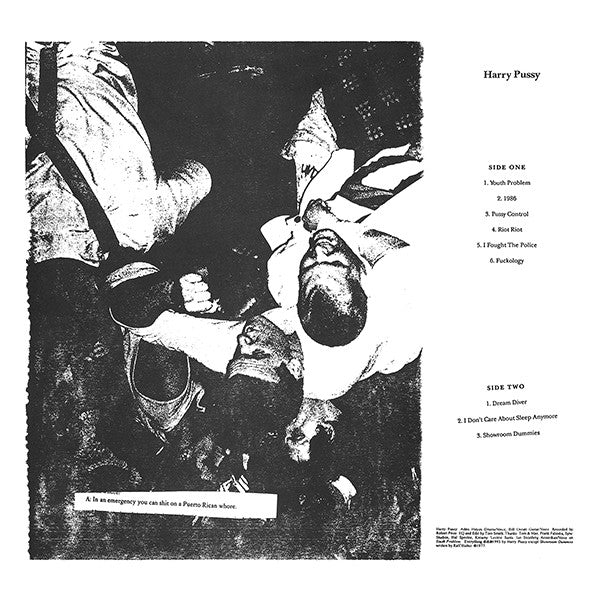 Harry Pussy - s/t LP
$15.00
Harry Pussy emerged out of the Florida swamps in 1993. Formed by Adris Hoyos and Bill Orcutt, the duo became legendary for their volatile live shows, which often devolved into violent clashes with audience members. Obliterating the lines between hardcore, noise and free jazz, the unclassifiable Harry Pussy were at once all of these things and none of them.
Originally released on Siltbreeze, their self-titled debut album reveals an antagonistic and visceral approach to music: Hoyos' self-taught, wild-style drums and shrouded screams tangling with Orcutt's high tension blues guitar. As David Keenan writes in the liner notes, "Harry Pussy played at such a heightened speed-of-thought climactic future-primitive peak that they outstripped technique so completely that people thought they couldn't actually play at all."
From the opening blasts of "Youth Problem" to the spasmodic, electro-convulsive take on Kraftwerk's "Showroom Dummies," Harry Pussy is an absurd and devastating statement. Twenty-plus years later, rock 'n' roll's collective ears are still ringing. This long out-of-print vinyl release is recommended for fans of The Dead C, Royal Trux and Mars.
Track Listing:
Youth Problem
1986
Pussy Control
Riot Riot
I Fought The Police
Fuckology
Dream Diver
I Don't Care About Sleep Anymore
Showroom Dummies