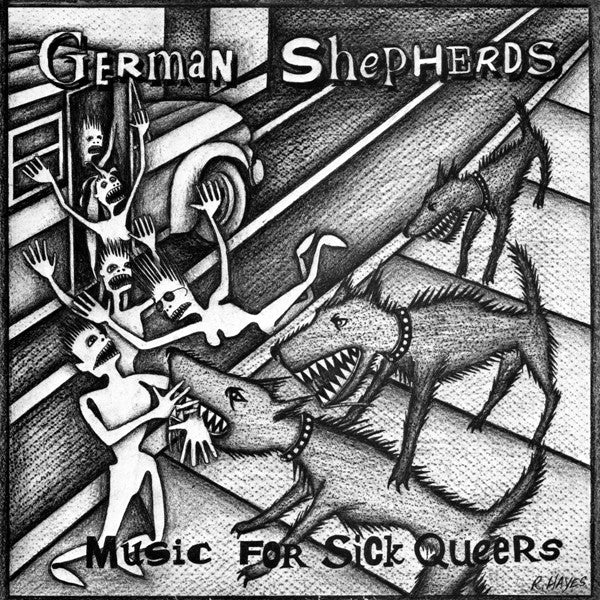 German Shepherds - Music For Sick Queers LP+7"
$15.00
Formed by Stephen Scheatzle and Sandy Stark (aka Mark Hutchinson), the German Shepherds grew out of San Francisco's art-punk scene in the early 80's. Their first single, "I Adore You," is a lost minimal synth nugget with an unforgettable rhythm box pattern, and their second, "THC," features Stark's menacing and child-like vocals. Music For Sick Queers (orig. 1985) brings together these and more beautifully disturbing songs, electronic noise reminiscent of Allen Ravenstine (Pere Ubu) and the best of The Residents, Suicide, and Psychic TV.
While more tracks would appear on compilations, such as, Mykel Board's infamous You'll Hate This Record Record, the German Shepherds themselves virtually disappeared as their self-released album was out-of-print for decades. After years of searching the catacombs, Superior Viaduct finally caught up with only surviving GS member, Stark, and uncovered the band's secret history growing up in Ohio.
This first time reissue comes from the original master tapes, full-length LP + special bonus 7-inch containing previously unreleased material. Includes archival inserts and digital download card.
Track Listing:
Communist Control
Armageddon Man
Love Me
Hitler's Child
Booty Jones
I Adore You
Mr. Tupper
THC
Quit It
Complacent American
The Earthquake Has Come (Bonus)
Let The Night Roar (Bonus)
Dear Jodie (Bonus)