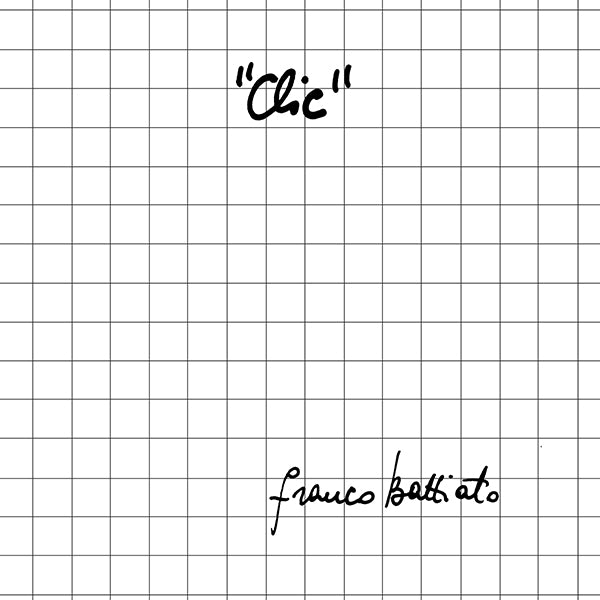 Franco Battiato - Clic LP
$25.00
On his fourth album, Clic, Franco Battiato moves further out – into realms of pure and elemental approaches to sound – to create a seminal work that flows naturally from one musical form to the next. Every second ripples with orbital chords, kosmische textures and schizophrenic string quartets, yet somehow manages the same dramatic pacing and variety as his avant-rock albums Fetus and Pollution.
Originally released in 1974 on Bla Bla, Clic features Battiato on VCS3 synthesizer and piano, along with trusted collaborators Gianni Mocchetti on guitar and Gianfranco D'Adda on percussion. While only "No U Turn" bears the maestro's voice, these seven tracks contain some of his boldest melodies, an underlying thread that runs through the choral arrangements and meditative compositions.
Clic's dedication to Karlheinz Stockhausen comes into focus on the final piece, "Ethika Fon Ethica" – a rapidfire journey into Italian shortwave radio, interrupted by fleeting fragments of folk music from around the world (sampled from Henry Cowell's celebrated Folkways compilations from the 1950s). It's the perfect ending to Battiato's beautiful and expansive tour of the cosmos, signaling the uncompromising experimentalism that would dominate much of the composer's mid-1970s oeuvre.
Superior Viaduct presents the first-time domestic release of Clic. Reproducing the original gatefold jacket and booklet, this reissue is part of an archival series that chronicles Franco Battiato's masterful body of work from 1971 to 1978.
Track Listing:
I Cancelli Della Memoria
No U Turn
Il Mercato Degli Dei
Rien Ne Va Plus: Andante
Propriedad Prohibida
Nel Cantiere Di Un'Infanzia
Ethika Fon Ethica