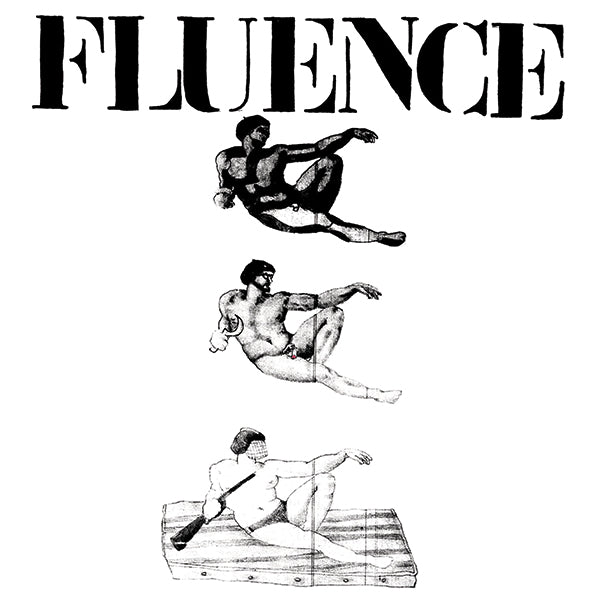 Fluence - s/t LP
$25.00
Label: États-Unis
Fluence is the brainchild and first release of sound artist / provocateur Pascal Comelade. Recorded in Montpellier, France in 1974-1975, the project consists of exploratory electronic pieces in the Fripp & Eno vernacular with a Kosmische tinge.
"A Few Reasons To Stay / A Few Reasons To Split," a title inspired by Swiss conceptual artist Urs Lüthi, features Comelade's kaleidoscopic arpeggios and Richard Pinhas' howling guitar, which variously resembles a dreamlike cello and ghostly human moans.
"Barcelona Tango's" off-kilter exotica with pocket trumpet and looping drum beats foreshadows Comelade's later work, which would create a stir in some avant-garde circles for his use of unorthodox instruments (plastic saxophone, toy piano, etc.).
On the side-long "Schizo," Comelade's electric organ with probing, Terry Riley-esque swooshes collides with Gabriel Ibanez's thick, reedy buzz – together forming a truly magical soundscape. These incendiary performances ably join the ranks of other dreamily cosmic, impressionistic guitar-and-synth masterworks like No Pussyfooting and The Serpent (In Quicksilver) as well as Conny Veit's work with Popol Vuh.
Originally released in 1975, Fluence offers a remarkable emotional and textural range – richly experimental and deeply progressive – that sounds at once timeless and strikingly contemporary.
This first-time standalone reissue is limited to 750 numbered copies.
Track Listing:
A Few Reasons To Stay / A Few Reasons To Split
Barcelona Tango
Schizo