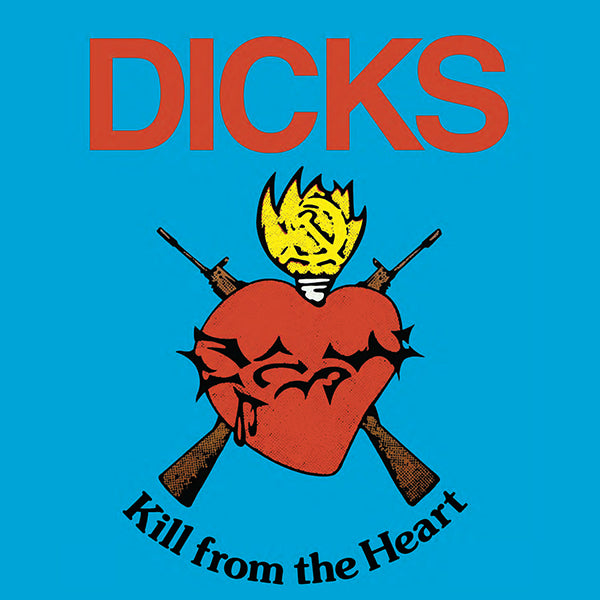 Dicks - Kill From The Heart LP
$25.00
Release Date: February 23rd, 2024
Limited edition translucent red vinyl.
Dicks' debut LP has been acknowledged as a foundational statement in Punk ever since its initial 1983 release. Following their first single, 1980's "Dicks Hate The Police," and a live split with fellow Austinites the Big Boys, Kill From The Heart does not disappoint.
Originally released on SST, the album stands apart from the mass of generic thrash-hardcore contemporaries – fueled by the manic, but controlled power of singer Gary Floyd along with the original lineup of guitarist Glen Taylor, bassist Buxf Parrot and drummer Pat Deason.
Dicks were operating at an absolute peak at this point, alternating damaged workouts that suggest Flipper or No Trend on one end and highly charged tracks in the vein of Minutemen or Tales of Terror on the other. Straight out of the gate on "Anti-Klan," the band trades blues-grounded guitar with squealing feedback and intensely political lyrics. The raw emotional sincerity of Floyd, who was openly gay in Reagan-era Texas, provides unmistakeable urgency to songs such as "No Nazi's Friend," "Rich Daddy" and the title track, which remains one of the stone-cold classic punk anthems.
Forty years on, Kill From The Heart continues to smolder – an arresting testament to the possibilities embodied in creative rage. It is no surprise that Dicks have been covered by Mudhoney, Jesus Lizard and more. Superior Viaduct is honored to present this truly essential reissue. Comes with original tracklist, insert and download card.
Track Listing:
Anti-Klan (Part 1)
Rich Daddy
No Nazi's Friend
Marilyn Buck
Kill From The Heart
Little Boys' Feet
Pigs Run Wild
Bourgeois Fascist Pig
Purple Haze
Anti-Klan (Part 2)
Right Wing/White Ring
Dicks Can't Swim: I. Cock Jam / II. Razor Blade Dance