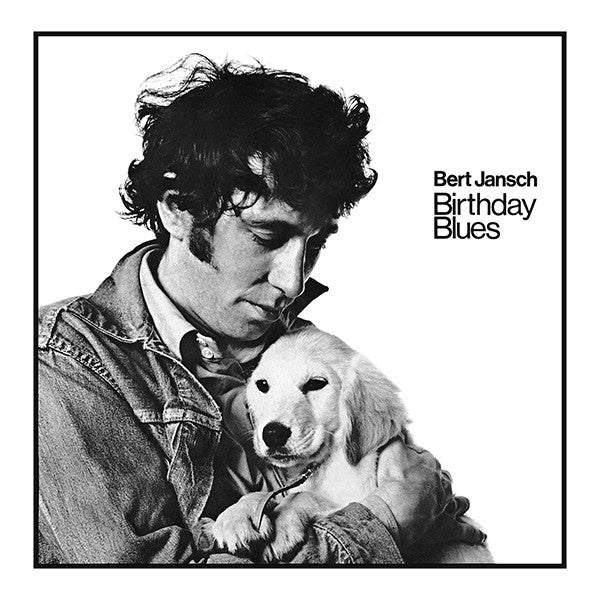 Bert Jansch - Birthday Blues LP
$20.00
Bert Jansch's freewheeling fifth album, Birthday Blues, occupies a unique place in his solo discography. Released in 1969, the same year Basket of Light propelled Pentangle into the UK pop charts, Birthday Blues almost sounds like a Pentangle LP missing John Renbourn and Jacqui McShee. Backed-up by bandmates Danny Thompson and Terry Cox, Jansch neither holds back his characteristic moodiness nor takes himself too seriously.
What's more, Jansch is in love. Heather Rosemary Sewell isn't just the inspiration for one of the song titles; she also designed the cover, whose Hans Feurer front photo shows Bert holding the couple's puppy. With just enough of a Donovan-esque pop sense, Pentangle producer Shel Talmy keeps the overall feel of these recordings fresh, warm and immediate.
As its playfully ambivalent title suggests, Birthday Blues reveals an artist fully comfortable in his own skin. Blues and folk influences are woven together into songs at once directly personal, yet generously light and free. The most "pop" of Jansch's '60s solo recordings and perhaps one of his most underrated, Birthday Blues is a deep and rewarding family affair at the height of his musical powers.
This vinyl release has been carefully remastered from the original master tapes and features liner notes by Richie Unterberger.
Track Listing:
Come Sing Me A Happy Song To Prove We Can All Get Along The Lumpy, Bumpy, Long And Dusty Road
The Bright New Year
Tree Song
Poison
Miss Heather Rosemary Sewell
I've Got A Woman
A Woman Like You
I Am Lonely
Promised Land
Birthday Blues
Wishing Well
Blues