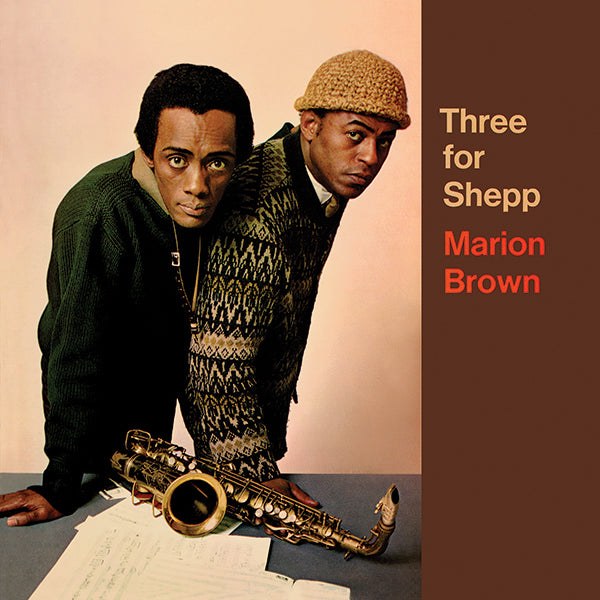 Marion Brown - Three For Shepp LP
$20.00
In 1966, when Marion Brown was ready to make his first record as a leader, he was standing on the shoulders of giants. Formative associations with Ornette Coleman and Sun Ra established Brown as a saxophonist to watch, and he had already appeared on free jazz landmarks Archie Shepp's Fire Music and John Coltrane's Ascension.
Originally released on Impulse!, Brown's debut lays down three startling originals and three tunes by Shepp – echoing his mentor's 1964 homage to Coltrane, Four For Trane. Featuring Grachan Moncur III on trombone, Dave Burrell on piano and Norris "Sirone" Jones on bass, Three For Shepp balances fiery energy and delicate precision.
Side A showcases Brown compositions that mix modal structures with ecstatic playing, particularly when the bandleader chases Moncur and Burrell on the exhilarating "The Shadow Knows." On the album's all-Shepp side, "West India" draws inspiration from India and Africa, while the feverish post-bop of "Delicado" demonstrates the band's versatility, swept by the wheeling drums of Beaver Harris.
Even this early in his career, Brown stood apart from his peers in "the new thing." His solos were as gentle as they were furious. Informed by the African American folk traditions of his native Georgia and an enthusiastic embrace of the avant-garde, his music would confront and challenge society. As Brown says in the original liner notes, "The music is definitely a part of what's going on in the black revolution in America."
Three For Shepp still sounds crucial today (over 50 years later) and remains a vital statement of jazz's past, present and future.
Track Listing:
New Blue
Fortunato
The Shadow Knows
Spooks
West India
Delicado